Zachary Levi Pugh
(born September 29, 1980, age 29) is an
American
television
actor and singer known for roles of Kipp Steadman in
Less than Perfect
and
Chuck Bartowski
in
Chuck
. He portrayed
Toby Seville
in
Alvin and the Chipmunks: The Series
and
Alvin and the Chipmunks: The Squeakquel
.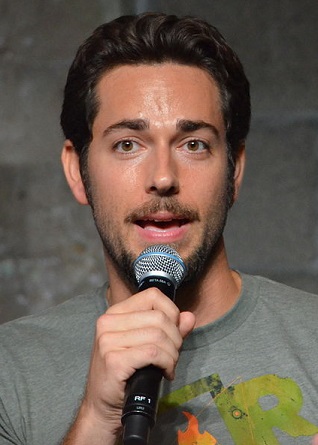 Early life
Levi, the middle child between his two sisters, was born Zachary Levi Pugh in Lake Charles, Louisiana, to Susy and Darrell Pugh. As a child, his family moved all over the country before making their final move to their new home in Ventura, California, where Levi attended Buena High School for four years He began acting in theatre at the age of 6, performing lead roles in regional productions such as Grease, The Outsiders, Oliver, The Wizard of Oz and Big River at the Simi Valley Cultural Arts Center.
Because Levi is a Jewish surname, he is often mistakenly assumed to be Jewish, but this is not the case; Levi dropped his Welsh surname Pugh and uses his middle name professionally on advice that being named "Zach Pugh" would not help his career in Hollywood.
Career
Levi had a supporting role in the FX television movie Big Shot: Confessions of a Campus Bookie. He played Kipp Steadman on the ABC sitcom Less Than Perfect. He also portrayed a potential boyfriend of Charisma Carpenter's character, Jane, in the ABC Family television movie See Jane Date. Levi was slated to be a lead in an ABC pilot called Three for the 2004/2005 television season. It was written by Andrew Reich & Ted Cohen, and would have costarred James Van Der Beek, Jama Williamson, and Jacob Pitts, but the show was not picked up.
Levi financed Kendall Payne's album Grown after she was dropped by her label, Capitol Records.

He landed the starring role in Chuck, a series that was given a full season order (later reduced from 22 to 13 episodes due to the 2007 Writers' Strike) for the NBC 2007 fall schedule and premiered on September 24, 2007, which was given a full season order a few months later.
In the summer of 2008, Levi was named one of Entertainment Weekly's Top Thirty People Under Thirty.
He plays Toby Seville in the film Alvin and the Chipmunks: The Squeakquel.
He will be starring alongside Mandy Moore in the upcoming Disney-animated feature film Tangled, which is based on the popular fairy tale Rapunzel. He will be voicing Flynn Rider, a bandit who finds refuge in Rapunzel's tower.
Levi is providing narration in the upcoming documentary about the game of Monopoly called Under the Boardwalk: The MONOPOLY Story. Levi does not return in Alvin and the Chipmunks: Chip-Wrecked.
Music In April 2010, Katharine McPhee released a preview of a music video to cinemas for her single Terrified. Levi duets with her on the song (which was re-recorded; the original album version features Jason Reeves) and appears in the music video singing with McPhee. On May 3, 2010, the song was previewed on Entertainment Weekly's website and was made available for purchase on iTunes. The full video premiered on May, 7th, 2010 on the music video website Vevo.
Personal life
Levi is a motorcycle enthusiast.
Levi is a committed Christian. During an interview with Relevant Magazine, he said, "My job on my set, I believe, is to first just love people and gain that trust with people where they know that I really do love them and care about their well-being, so that when they are running into problems, they will hopefully, at some point, come to me and ask me, 'What is your peace all about? What is your comfort all about? Where do you get your love? Where do you get your talents?' And I can turn to them and say without blinking, 'Jesus Christ'.
He dated Caitlin Crosby from 2008 to January 2010.
Filmography
Videogames