The Munkapedia Statistical Report is an annual report, released by Munkapedia's administration, documenting stats about the activity of the wiki for community discussion in hopes of establishing long-term trends to better show where there is strength and where there is need for improvement. Our first report was released two years ago containing a few areas of interest. In our second report, these areas were expanded to include five new charts, one of which utilizes some of the 2014-2015 year's data. Over the last year, one additional chart was added comparing this year to the original report.
This report will be the final annual release of statistical data.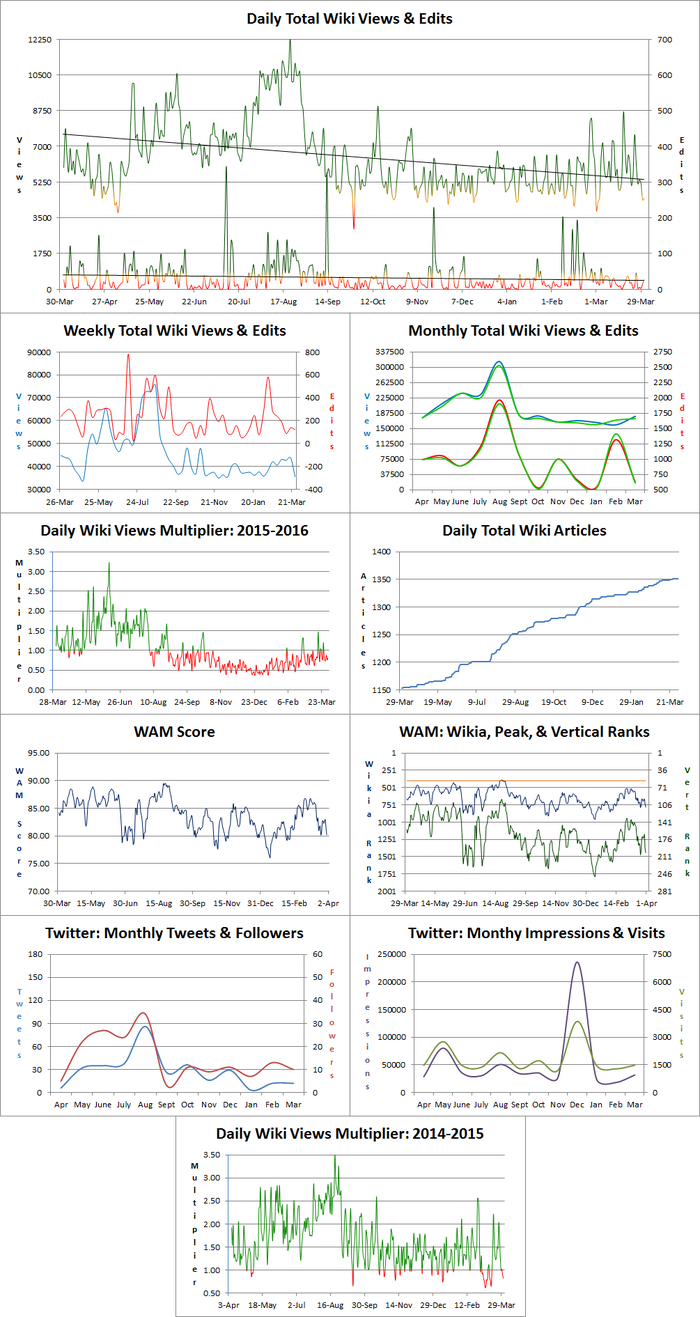 Views & Edits
The first graph shows daily total wiki views and edits from April 1st, 2016 to March 31st, 2017. Views are graphed as the top line while edits are the bottom line. The gradient from red-yellow-green indicates what might be considered poor-average-great for the wiki. The black lines are regression lines to help determine whether views and edits have been increasing or decreasing over the last year. The slopes for these lines are both negative showing that views and edits of wiki pages have decreased overall.
The two graphs directly below the main graph show the same information but over different time intervals. Instead of daily points, these look over weeks and months to see longer term trends. Since months are of variable lengths, the data was normalized to a 30 day month as indicated by the green lines. This is done by calculating the average views and edits over the month and multiplying by 30. So if every month had 30 days, the green line is likely what would be seen.
One of the graphs introduced last year is the view multiplier, with one new graph this year. The multiplier means that views any day from a previous year can be multiplied by the multiplier to get this year's views. So numbers larger than one (the green) mean that the wiki had more views on that day than a previous year, in essence showing growth of the audience. Less than one (the red) tells us the audience has decreased as compared to that day in a past year.
Quick Stats
During this period, there were 25 days with more than 10,000 daily views (about half that of 2015-2016).
August was just shy of a third of a million views.
There were 17 days in which views doubled or more than doubled while there were 30 days in which views halved or more than halved from that day the year before.
Despite a large drop of views between this year and last, views are, for the vast majority, higher than the 2014-2015 year.
Wiki Articles
The original graph from our first report shows the total number of main namespace articles as they were created daily. Over the last twelve months, nearly 200 articles have been added to the wiki. Article creation slowed from last year by almost 100 articles.
WAM
WAM is a Wikia ranking system that offers scores, out of 100, to the top 5,000 Fandom wikis as an indication to the wiki's activity, reaction to everyday events (ie. hype of the ALVINNN!!! and The Chipmunks premiere wearing off), and momentum over time. Other rankings list wikis in numerical order, with one being the top, for position relative to all wikis, wikis in a vertical (related group of wikis such as television wikis), and the peak rank. Over the last year, Munkapedia has averaged a WAM score of 84.95, Wikia 604, and Vertical 151 (Peak 57), a decrease of 0.90, 17, and 23 respectively.
Twitter
The two Twitter graphs show the relationship between tweets and followers as well as impressions and profile visits. Impressions and visits spiked in December due to Munkapedia's appearance in a Dear Hank and John episode and related tweets.
---
If you have any questions/concerns/inquiries or suggestions in which the wiki might benefit in these and other regards, please feel free to discuss below or add to the wiki's suggestions board. Happy editing!
Want to receive updates on the latest Admin blog posts? Then click here to follow this blog.
Community content is available under
CC-BY-SA
unless otherwise noted.