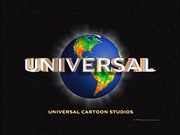 Universal Animation Studios
(formerly known as
Universal Cartoon Studios
), is the animation production arm of movie studio Universal Studios.
It's best-known for producing sequels to either Amblimation or Amblin Entertainment and Sullivan-Bluth feature films, such as The Land Before Time, An American Tale, Balto and other films and television series, using traditional and computer animation techniques. The Universal Animation Studio was the company who did the animation work on Alvin and the Chipmunks Meet Frankenstein and Alvin and the Chipmunks Meet the Wolfman that were released in 1999 and 2000.
Trivia
The actual animation production is done overseas, most notably by Wang Film Productions, with pre-production and post-production is US-based.
Community content is available under
CC-BY-SA
unless otherwise noted.