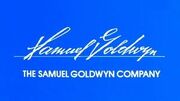 The Samuel Goldwyn Company
was an independent film company founded by Samuel Goldwyn, Jr., the son of the famous Hollywood mogul, Samuel Goldwyn, in 1979. It's first production was 1983's
The Golden Seal
.
In succeeding years, the Goldwyn company was able to obtain (from the Sr. Goldwyn estate) the rights to all films produced under Samuel Goldwyn (including the original 1929 Bulldog Drummond, Arrowsmith, and Guys and Dolls). They also acquired the theatrical and television rights to the Rodgers and Hammerstein films and television programs that were independently produced but released by other companies, including South Pacific, Oklahoma!, and the 1965 CBS television adaptation of Cinderella. Other films include the The Care Bears Movie, The Chipmunk Adventure, and Rock-a-Doodle. 
Since 1997, rights to the films and television programs owned by The Samuel Goldwyn Company were assumed by Metro-Goldwyn-Mayer, with some exceptions, such as The Chipmunk Adventure, which was licensed by Bagdasarian Productions to Paramount Home Entertainment.
External links
Community content is available under
CC-BY-SA
unless otherwise noted.