The Chipettes' Treehouse is where The Chipettes live and/or hang out.
The Chipettes originally lived alone in their tree-house during the Alvin and the Chipmunks series until Miss Mooney, a school teacher, discovers and reports that the girls are living without an adult in Help Wanted: Mommy. As a result of this information, The Chipettes briefly live with The Chipmunks at the Seville House before deciding to live with Miss Beatrice Miller at the Miller House, where they live throughout the rest of the 80s series. The tree-house was used afterwards as a place to hang out.
The Chipettes lived in an extravagant mansion in a very large oak tree, of which it's assumed they built themselves, but nothing supports this claim. The structure consisted of a dormer style roof, with the center arch dominate. Each contains a window with the main arch over the door. The roof is pinkish-red and the facade is white. The tree-house is accessed through a door at ground level with, presumably, a staircase reaching the balcony.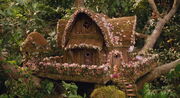 In the CGI/live-action film Alvin and the Chipmunks: Chipwrecked, Brittany builds a tree-house while shipwrecked on an island, possibly as a reference to The Chipettes' original tree-house. The house is similar to the original but lacks the secondary roof arches. The structure is covered with pink flowers and is the first design to have a little gazebo. A spiral staircase leads to the balcony. This version of The Chipettes' tree-house is the first that has an unknown interior design as there's no film of the girls actually using the house to live in.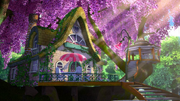 The Chipettes return to live in a tree-house located in Miss Miller's backyard in the ALVINNN!!! and The Chipmunks series. The newest version of the girl's house is a combination of the two previous styles with some differences. The central roof arch carries over from the 80s series while the spiral staircases, gazebo (sometimes used for performances as seen in Sister Act), and use of flowers is integrated from the third CGI film. The largest and most noticeable difference is the elevated elegance, part of which is added through the flowering tree and the detail of the building itself. The tree-house also possesses a fireplace; a balcony with an umbrella-table, chairs, and flower light; and a second story on which the girls sleep (the first floor contains a living room and a kitchen). The interior is lit primarily with sunlight from the multiple windows and is covered with flowering vines much like the facade. First construction on the tree-house occurred in a flashback during The Tree House, in which the finished building was also included in the Home Beautification Awards.