The Fab Fourum is a SiriusXM talk-show dedicated to The Beatles on The Beatles Channel, channel 18, that is hosted by four individuals: John Lennon, Paul McCartney, George Harrison, and Ringo Starr.
On December 18, 2019, an episode interview about the Alvin and the Chipmunks franchise and the album The Chipmunks Sing the Beatles Hits, featuring Ross Bagdasarian, Jr., was released.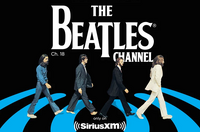 The Beatles were the big bang of pop-they created the musical world we live in today. Now for the first time, the most popular band in history presents their own channel. All things Beatles, 24/7. All of their hits, album tracks, live recordings, rarities & solo songs, along with the records that influenced them & music inspired by them. Plus, hear specials, interviews, & exclusive hosted shows. It's the soundtrack of our world made by John, Paul, George, and Ringo.[1]
Main QuestionsEdit
Full InterviewEdit
Hosts:
Now, another bit of interesting chart news this week is that Mariah Carey's "All I Want for Christmas (Is You)" went to #1 25 years after it was released. That is every kind of record setting record. And it is also, man this is just a barrage of statistics folks. It is also the first Christmas song to be #1 in America in 60 years. The last time it happened, in the 50s, it was
The Chipmunks
so we of course, sparing no expense, thought "
let's go out and get those old Beatles cover band, The Chipmunks, to come on the show, or their best representative.
" And here's a little bit of The Chipmunks singing The Beatles.
Media Excerpt: "All My Loving"
That of course is The Chipmunks. Ross Bagdasarian, Jr. are you there?
Ross: I am and I love hearing that song, even though we didn't sing it quite as well as The Beatles did.
Hosts:
Well here's what I always, and I should say for folks listening that Ross is the son of
Ross Bagdasarian
who you knew as Dave Seville.
Ross: Right.
Hosts: Dave Seville was his stage name. I don't know if you call him the leader, the ring master, the babysitter, and the creator of The Chipmunks. Now here's what I always wondered: among the real singers, whose voices were sped up for The Chipmunks, was there anyone famous? Was there Darlene Love or something?
Ross:
You know I wish that she was. When my dad was doing the singing for "
The Chipmunk Song
" in '58 as you had mentioned the #1 song, and obviously Mariah has now gotten her #1 Christmas song, but my dad did all the parts. He was
Alvin
,
Simon
,
Theodore
, and of course
David Seville
in all of those songs. When it came time to sing
The Chipmunks Sing The Beatles
he actually brought in some other singers that were wonderful session singers but none of them were famous, they were just really talented.
Hosts: Have you ever, in carrying on this legacy Ross, slowed down the tapes and heard what they sung?
Ross:
It's so funny. When my
wife
and I started to bring it back in early 1980, we wanted to bring it back for a year as a testament to my dad. And so my wife was thinking that, "
Ross, you must know how to do it. You grew up with your dad.
" I said, "
I have no idea. I was playing Little League baseball, I have no idea how he did it.
"
Hosts: That's what they said to George Bush, Jr., you know?
Ross: Yeah. So she took my dad's stuff and slowed it down and figured out how to do it. She's definitely the brains of the outfit.
Hosts: Ross, the question that I'm wondering is how does your dad, in 1964, go to London and get permission from The Beatles to do this?
Ross: You know what, it was such a great time because my dad was not only a songwriter but also loved music. He had such respect for what The Beatles were doing then. As you know, you can go sing anybody's song that you wanna do, you pay them a mechanical license and you'd be done. But my dad had such respect for them he said, "No, I wanna fly to London, I wanna meet with the guys, and I wanna make sure they're good with me doing this with The Chipmunks because if it doesn't get their seal of approval I'm not going to do it." He wound up having the greatest time with them because not only were they great musicians and great singers and great performers, but they were also real students of how you record and engineering and so forth. They were so impressed because my dad in '58 only had two tracks to record on so he had to record and bounce. Of course The Beatles, when they started at '63-'64, they had four tracks so they picked my dad's brain for "how could you get so many cool things with only two track recording." They had a wonderful thing in common in terms of how to record and so forth.
Hosts: So do you think he actually met all four of them?
Ross: Oh he did. He definitely did, all four of them. All four of the guys were there and because my sister and cousin were crazy, along with eight hundred million other girls and guys around the world. They were such huge fans that The Beatles were so wonderful and signed autographs and gave them all kinds of various Beatle memorabilia. My dad came home with a treasure trove of Beatles stuff and of course was a huge hit with my cousin and sister.
Hosts: Oh I can't even imagine. Now as you said you were a young kid, you're playing Little League and stuff at the time.
Ross: Yeah, yeah.
Hosts: Was the whole Chipmunks thing cool to you and your friends or was it a little embarrassing that this is what my dad does? And did The Beatles change that?
Ross: For me, I loved the fact when I first heard Alvin talking back to my dad I was so impressed that I loved Alvin immediately. And actually, when my dad did The Chipmunks Sing The Beatles at that point I had a girlfriend who loved The Beatles insanely and I felt that The Beatles were taking her away from me. I was very upset about that and I told her "you know, this is a group that's gonna last about six months or so." I missed it by six or seven decades, but obviously since that stupid comment have not only loved their music ever since that time, but I listen to the channel all the time.
Hosts: Oh, thank you! That's good to hear.
Ross: By the way, you know Peter Asher every time he's doing the countdown and he talks about how Paul was in his mom's place playing on the piano when he was working out a song. All of those behind the scenes stories are wonderful. One other fun thing for me was a few years ago Paul McCartney came on Saturday Night Live and performed "The Chipmunks Song." It's so fun to see that and in 1965 the Rose Bowl Parade, Capital Record with See's Candy, had The Chipmunks and The Beatles obviously made out of flowers and so forth as the Rose Bowl does. They won a wonderful award for one of the best floats in the 1965 Rose Bowl float with The Beatles and The Chipmunks.
Hosts:
Didn't your father, I mean I went back and haven't thought a whole lot about The Chipmunks or "
Witch Doctor
" in quite some time.
I bet you still know the words, don't ya?
Well, yeah. So your father, I mean, "Witch Doctor" is a totally out-of-the-blue hit novelty record, but of course the charts and the music scene in the 1950s had room for novelty records.
Ross: Absolutely.
Hosts:
The "
Purple People Eater
" being one of them. So when your dad creates the "Witch Doctor," which again has that speeded "
Ooo eee, ooo ah ah ting tang, walla walla, bing bang
." Okay, let's not embarrass ourselves.
Ross: Pull it together now.
Hosts: Too late guys. Does he go into the studio thinking he's gonna play with, you know because ultimately he wins Grammy Awards for that.
Ross:
It's a great story and it is creativity born out of poverty. So my dad and mom and three kids at this point, very very young, and my dad and mom have $200 left in the bank. My dad does what any really thoughtful, conservative person would do. He takes 190 of the $200 and buys a state-of-the-art tape recorder that has the ability to speed up and slow down and change the speeds. And because he had written a lot of songs, "
Come On-A My House
" for Rosemary Clooney back in 1951 and other things, he had played around with slowing down and speeding up the tape for like pianos and so forth and had wondered what it would sound like if he did it to a voice. That was really the genius of "Witch Doctor." He was starving, he had no money. The record company,
Liberty Records
, was about to go under so he recorded this song and took it to them and they thought "
I don't think this is gonna work
." He said, "
Listen, you're gonna go bankrupt anyway so what do you have nothing to lose? If it doesn't work you're going bankrupt anyway, but if it actually happened, then you'd be all set.
"
Hosts: Now after The Chipmunks had #1 records, did other people try to get in on it? I mean, anyone could theoretically speed up a vocal track.
Ross:
You know what, it's funny because it has happened on and off over the years but my dad was very protective of it and I think and because they were so really know for that sound I think anything else really felt like an impostor. It's interesting that over these 60 years yes it's popped up from time to time, even back in 1959 and '60, but for the most part
Alvin and the Chipmunks
are really know for that sound and I think they have a special thing, that's their sound.
Hosts:
So "Witch Doctor" is an unbelievable smash hit and to this day, as Bill and I just demonstrated, we can clear sing it note for note. But then, how does he come up with the idea that he's going to create this band, The Chipmunks, and he's gonna record a Christmas song, which still contains, my wife was singing it to me today, "
Me I wanna hula hoop
."
Talk about right in the moment for that late-50s, Peanuts kind of baby boom as children demographic, it was right on top of that time.
So how does all of that happen?
Ross:
So it is March 1958 when my dad comes out with "Witch Doctor" and of course as you said becomes a huge hit. Now it's about three or four months later, we're getting into summer and the record company says "
Ross, "Witch Doctor" was huge and we could really use another one of those so if you could come up with something like that, the big hit thing would be great.
"
It's the middle of summer and my brother, who's about four years old at the time, just can't wait for Christmas and he asks my dad if it's Christmas yet, not because he's particularly religious but the idea of presents under the tree he is all in favor of. My dad thinks "Okay, huh, Christmas song okay."
My dad loved the idea of the speed up voice but he wanted to give it more personality and that's when he created Alvin, Simon, and Theodore, who were named after
record executives
at Liberty Record.
Hosts: That's a good way to keeping the promotion pressure, to keep moving up.
Ross: Yeah, right. The record executives would hate him if it flopped but would love him if it was a hit. So he came up with this song and first played it for us when he finished it. My brother, my sister, and I came into the room and, as I said earlier, to heard Alvin talking back to my dad, which of course we never did, we just were already completely on board and loved it. Obviously along with tens of millions of people. That became a huge hit but interestingly enough back in those days no radio station would play a song, a Christmas song, until after Thanksgiving. We get a jump on the holidays these days.
Hosts: Sure, after Labor Day now.
Ross: That's right, so nobody would play it so he finally found a place. He went to a radio station in, I think it was Minnesota, and this is in kinda middle of November. Of course they put it on and is immediately that movie moment where the switchboard lights up. Everybody wants it and they could not press these singles fast enough. They ran out, they sold four and a half million records in six weeks, which was the fastest selling song of all time until, wait for it, The Beatles.
Hosts: We could do a special just on the many connections between The Beatles and The Chipmunks. Now I might be crazy because this is something I remember from when I was a small child and I'm wondering if this was just local where I was growing up or if this was national. I think there was a radio "Name the Chipmunks" contest.
Ross: Oh there was! Absolutely.
Hosts: But it was in the bag because they were actually named after three record executives.
Ross: Right, right.
Hosts: So my entry wasn't seriously considered. Bill's crying foul over here.
Ross:
They did all kinds of things like that and as you may or may not know, 1961 then my dad did
The Alvin Show
which played on CBS at 7:30 in the evening and that became a successful show that played in syndication for years. By 1960, probably 1967 or so, my dad had done pretty much everything with The Chipmunks he had wanted to do and obviously up until that moment it had sold about 25 million records in that six years or so, had had the TV show, merchandising. He was a person who was like "
Okay now I'm ready to go onto something else.
" He kinda retired The Chipmunks at that point and unfortunately passed away probably four or five years after that, early 1972.
Hosts: So who's idea was it to take this singing group and create a visual for them?
Ross: So my dad did that in 1961. He loved the idea of the characters, he had all of this music he had done and of course CBS was very interested in taking that popularity and putting it into a TV show. He made that 26 half hours of The Alvin Show and we've actually just gone ahead and refinished everything, remastered everything, cleaned everything up so they are absolutely beautiful. At a certain moment, we'll figure out when the right time is but, we're gonna put them out for the first time in all their full glory.
Hosts: And then you and your wife successfully relaunch it so that so many more generations of kids-
Ross: That's a funny story because I said to my wife, "I'd love to bring the characters back, just for a year (this is like 1978), just as a tribute to my dad so people can remember some of the wonderful things that he had did." So here we are 40+ years later and we've done a TV show on NBC for eight years and then four movies with The Chipmunks that have done a couple billion dollars at the box office and now a new TV series that we've been doing for five or six years and we've got shows to make until 2025.
Hosts: That is quite a comeback story and what a great tribute to your father that you guys have been able to do that.
Ross: Thank you.
Hosts:
Now Ross, I don't wanna raise any hackles here or cause any trouble but it did occur to me in looking at
The Chipmunks Sing the Beatles
record that "
Hard Day's Night
" is kind of song about sex and "
Please, Please Me
" is completely a song about sex. Did that ever come up?
Ross: What!?! You gotta be kidding, I never had any idea!
Hosts: I mean it seems like someone in the PTA or Jack and Jill magazine of somewhere would of gotten outraged about this. It was a different time Bill.
Ross: Exactly, and thank goodness for that.
Hosts: So I don't know if you've even considered this, but how about you play disc jockey, alright, and you introduce, well I'll say your father's band, now your band.
Ross: No, no. My dad's band, I'm thrilled to call it that.
Hosts: Your dad's band singing another Beatles song, alright, and the clue, so you know which one it is, is that it was originally done by The Isley Brothers, you know what I'm talking about, right?
Ross: Not yet, no I'm sorry.
Hosts: Okay, it's a Beatles song, it comes from the album of The Chipmunks Sing the Beatles, okay? It suggests that "shake it up baby?"
Ross: Oh, oh!
Hosts: You ready?
Ross: Absolutely.
Hosts: So we need a complete introduction, you can say your name, and then the pay off will be "dah dah dah dah dah on SiriusXM, The Beatles Channel or on The Beatles Fab Fourum." However you'd like to do it but you know, you're on.
Ross: Alright, this is Ross Bagdasarian, Jr. on The Beatles Channel playing The Chipmunks Singing the Beatles "shake it up baby."
Media Excerpt:
"
Twist and Shout
"
Hosts: And there were The Chipmunks, shaking it up baby. "Twist and Shout" from The Chipmunks Sing the Beatles.
Bill, you pointed out something very interesting in that chat, you said that there room on the charts for novelty records and all kinds of things like that. That album actually out-charted The Beatles' own album which contained "Twist and Shout" when it was released in '65, The Early Beatles, remember Capital re-released pretty much what was introducing The Beatles. The Chipmunks' record actually out-charted that. It's amazing.
We thank Ross Bagdasarian, Jr. for spending time with us and telling us some great stories about his dad, David Seville, Ross Bagdasarian, the original Ross Bagdasarian, and talking about The Chipmunks and The Beatles on The Beatles Fab Fourum.
ReferencesEdit