Munkapedia, the Alvin and the Chipmunks Wiki is dedicated to the singing groups The Chipmunks and The Chipettes in the animated and CG/animated TV series, as well as the animated and CGI/live-action films. Munkapedia encompasses four unique generations of chipmunks and serves as the definitive source for the more than 56 year old franchise; covering the episodes, films, home releases, as well as albums, books, and much more!
Trending articles
Popular categories
View full main page
WELCOME TO
MUNKAPEDIA, the ALVIN AND THE CHIPMUNKS WIKI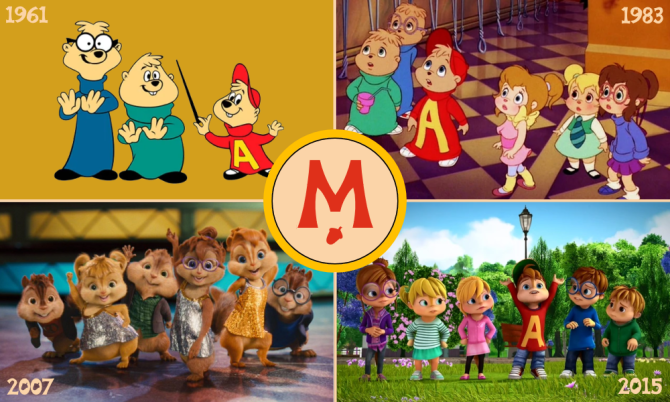 DID YOU KNOW?
The first official vocal appearance of Alvin and the Chipmunks was their three-time Grammy award-winning single "The Chipmunk Song (Christmas Don't Be Late)" in 1958. Driven by the success of this hit, Ross Bagdasarian, Sr. created The Alvin Show, The Chipmunks' first television series, in 1961 and the group's first solo album, The Alvin Show. After his death in 1972, his son, Ross Bagdasarian, Jr., relit the franchise in 1980 with the album Chipmunk Punk. Seeing an opportunity to continue his father's legacy, Ross Bagdasarian, Jr. and his wife, Janice Karman, launched the 80s Chipmunks with the TV series Alvin and the Chipmunks, The Chipmunks, and The Chipmunks Go to the Movies, lasting eight seasons total. They would also create The Chipettes in 1983 and release the first animated feature film, The Chipmunk Adventure, in 1987. In 2007, the franchise entered into a second revival which began with the release of the group's third platinum album, Alvin and the Chipmunks: Original Motion Picture Soundtrack, and the start of the CG Chipmunks. The CGI/live-action films Alvin and the Chipmunks, The Squeakquel, and Chipwrecked together opened the door for the creation of a new TV series, ALVINNN!!! and The Chipmunks, and a fourth CGI/live-action film, The Road Chip, in 2015.
FEATURED NEWS
Only July 27 2021 00:00:00 EST until the 35th birthday of Vanessa Bagdasarian, the voice of Eleanor in ALVINNN!!! This message will be displayed if the timer does not show up (like if the clock is loading or you do not have javascript enabled on your browser).
Only August 3 2021 00:00:00 EST until the 6th anniversary of ALVINNN!!! and The Chipmunks' US premiere. This message will be displayed if the timer does not show up (like if the clock is loading or you do not have javascript enabled on your browser).
FEATURED HISTORY
June 19
1996: The Bigger! VHS was released.
1996: The Star Wreck: The Absolutely Last Frontier VHS was released.
2019: Father Daughter Dance premiered on TV (US).
FEATURED ARTICLE
List of Alvin and the Chipmunks Books
is a compilation of short stories, novels, music, and sticker books, primarily published by Random House and Harper Festival, commonly based on episodes within the television series (such as
The Cruise
and
A Dog's Best Friend Is His Chipmunk
) or the CGI/live-action films. The short stories range from 24 to 32 pages while the novels contain 144 pages, each containing multiple illustrations. One
storybook collection
was also released in 2015 containing many of the CGI short stories.
FEATURED VIDEOS
TWITTER