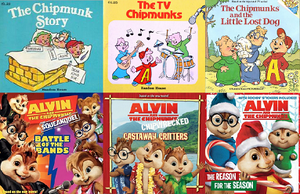 This will be a complete listing of the Alvin and the Chipmunks books and novels. The early comics created by Dell, in their Four Color Comics series, from around the time of The Alvin Show and the Harvey Classics comics of the early 1990s are not included in this list. Instead they can be found on a separate list: List of Alvin and the Chipmunks Comics. Coloring books have also been omitted from the listing below.
The books and characters experienced changes over the years. In the late 50s, The Chipmunks took on very realistic looks (though not quite like their first album appearances) that developed further into most cartoon-like chipmunks in the 60s with the comics created by Dell. With the conclusion of the initial airing of The Alvin Show, the boys transformed into their classic series appearance. By the 80s, Alvin and his brothers had taken on their most popular look and those books released were commonly based on an episode in the series. During this time, Random House was the dominate publisher for text books while Kid Stuff and Buena Vista (with Bagdasarian Productions) released audiobooks in the early and late 80s respectively. After the kickoff of the CGI/live-action films, not only were the familiar short stories created, longer novels offered those fans with a higher reading level the opportunity to continue enjoying the characters. These releases by Harper Festival dealt mostly with the new CG characters, but a few books were published with the more recognized 80s look.
Community content is available under
CC-BY-SA
unless otherwise noted.