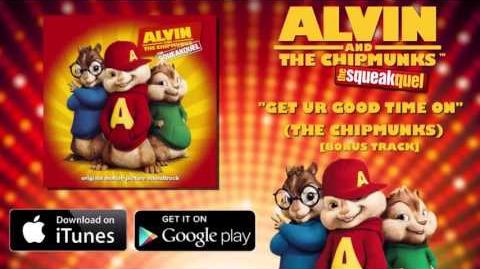 "
Get Ur Good Time On
" is a song originally performed by The DeeKompressors. The song is performed by
The Chipmunks
and is a part of the second CGI/live-action film soundtrack, 
Alvin and the Chipmunks: The Squeakquel: Original Motion Picture Soundtrack
, as an iTunes Deluxe Digital Edition bonus track. The song also wasn't featured in the
film
.
Lyrics
The Chipmunks:
Hey you, what'cha doin' sittin' down?
Don't you know it's time to rock out?
Run around, get your body off the ground
It's a party when we come aro-ound

Gettin' loud in the crowd
Come on everybody shout
When we're all together
It's a guaranteed freak out

When we come around, yeah
You know you gotta get up and roll (get up and roll)
This time, this time you better do what you're told (what you're told)

There's a party goin' on and you know you wanna join
And you're feelin' kinda strong so go and get it on (ohh, oh)
It's a good time, go and get your good time on (get your good time on)

Hey you, if you're ready, let's go
I know a place not too many people know
We can rock out, we can put on a show
And we'll bump until it's time to go-oh

Gettin' loud in the crowd
Come on everybody shout
When we're all together
It's a guaranteed freak out

When we come around, yeah
You know you gotta get up and roll (get up and roll)
This time, this time you better do what you're told (what you're told)

There's a party goin' on and you know you wanna join
And you're feelin' kinda strong so go and get it on (ohh, oh)
It's a good time, go and get your good time on (get your good time on)

Get out and go and have a good time
Go crazy, go and have a good time
Call up friends and go and have a good time
Oh, oh, oh, oh, ohh

Alvin:
A little fun never hurt no one
A little fun never hurt no one

The Chipmunks:
When we come around, yeah
You know you gotta get up and roll (get up and roll)
This time, this time you better do what you're told (what you're told)

There's a party goin' on and you know you wanna join
And you're feelin' kinda strong so go and get it on (ohh, oh)
It's a good time, go and get your good time on (get your good time on)
It's a good time, go and get your good time on (get your good time on)
It's a good time, go and get your good time on (get your good time on)

Get out and go and have a good time
Go crazy, go and have a good time
Call up friends and go and have a good time
Oh, oh, oh, oh, ohh