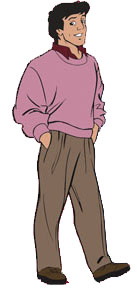 David "Dave" Seville
is one of the main characters of the series and movies. He is the Chipmunks' adoptive father, confidant, and caretaker. Dave is usually annoyed by the Chipmunks (mainly Alvin). Like any other single parent trying to raise 3 kids, Dave has his patience tested on a daily basis. Dave is actually based on the creator of "Alvin and the Chipmunks", and the real creator of the entire series (Ross Bagdasarian) actually had a stage name, "David Seville".
While Dave struggles to remain calm and objective, Alvin usually pushes him over the edge, resulting in Dave's famous yell, "ALLLLVIIIIIIIIIINNNN!!!", to which Alvin often replies, "OKAY!!".
Dave's rival and roommate was Ian Hawke. Dave's adoptive sons are Alvin, Simon, and Theodore. Dave's love interest and mate was Claire Wilson.
Dave plays the piano and the guitar.
Biography
Dave plays a bartender at the Lavender Orchid in this spoof of Miami Vice.
Dave plays the role of Detective Seville of Scotland Yard.
Dave portrays the role of Long John Silver.
Dave portrays the role of Captain Hook.
In this episode, Dave plays the role of Dave Smith, Alvin Smith's father.
In this episode, Dave plays the role of Clark Sevillewald.
Dave was the film's main protagonist, playing the role of the boys' caretaker, but kept telling them that he was not their father.
However, at the end of the movie, Dave told the Chipmunks that they were a family, so it was confirmed that Dave finally sees himself as a father figure to the boys.
Dave has a small role in the film. He is put in the hospital after an accident at the Chipmunks' concert and puts the boys in school. He is rarely seen in the film, but this could possibly be due to Jason Lee's work schedule for "My Name Is Earl" at the time the movie was filmed.
Dave will have a bigger part in this film, where he searches for his six children.
Portrayed by
Community content is available under
CC-BY-SA
unless otherwise noted.