Bentley Van Rolls is an episode of The Alvin Show series.
Plot
Alvin meets his new neighbor Bentley Van Rolls III, who turns out to be a spoiled little rich kid. Bentley has his butler, Reese, spy on Alvin from their balcony before heading out to attempt to play with Alvin. Instead of having fun himself, Bentley has his butler play his music and toys for him. Tired of being bored by his things, he sets out alone to learn how to have fun. It's not until Bentley saves Alvin from being hit by a car that he decides to show the kid how to have fun by tricking him into doing his chores.
Characters
Bentley Van Rolls III
Reese
Musical Segments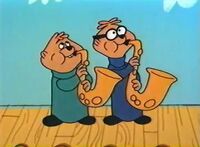 A skunk sees a couple signs advertising an upcoming event and finds its way to the barn of the performance. Every animal or person the skunk meets runs away, including The Chipmunks as they prepare for the show. For the performance, Theodore works backstage where he has some difficultly operating some of the ropes causing Dave, who is playing an angel, and Alvin, who gets stuck on a flying chariot, to be flung around over the stage. As the show wraps up, they discover the skunk in their chariot and they take off running.
While on a train in Scotland, Dave informs The Chipmunks of some history and culture of the land (correcting Alvin about kilts and Theodore about Firths vs Fourths). One of the place they stop at is Lochness, home of the Lochness Sea Monster. As they travel they reach the Firth of Clyde which leads Alvin to believe that Scotland is the home of the inventor Clyde Crashcup. The boys borrow some instruments to perform but not to Dave's standards.
Clyde Crashcup Segment
Invents Self-Preservation
Trivia