This article is about the toys associated with the 1983 series. For other uses, see Alvin and the Chipmunks (disambiguation).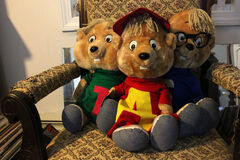 Only the three Chipmunks characters were produced like this, made in 1983. They measured 18 inches high and each said six phrases.
Alvin:
"Hi! I'm Alvin!"
"You're just great"
"Alvin loves you"
"That's fantastic!"
"It's a wonderful day"
"What's your name?"
Simon:
"Isn't this fun?"
"Hi! I'm Simon"
"It's a beautiful day"
"You're stupendous!"
"Simon loves you"
"Let's be pals"
Theodore:
"I'm Hungry"
"Theodore Loves You"
"Pleasant Dreams"
"Gimme A Hug"
"Let's Have Fun"
"(giggle)"