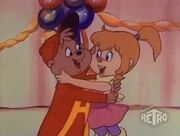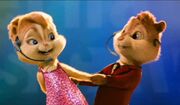 This page contains support indicating the coupling of Alvin Seville and Brittany Miller, and their most accepted couple name is Alvittany (Alvin + Brittany), though some prefer the pairing name as Alvinatty. ALVINNN!!! gave another potential pairing name in Albrittina.
Overview
Alvin and Brittany are the love/hate relationship couple that often runs as a gag throughout the cartoon series. Brittany and Alvin sometimes squabble with one another, but they also sometimes act friendly towards one another and show signs that they are willing to help the other out.
Alvin's Hints
80s Series & Films
CGI Films
When the song "Get Munk'd" is playing, Alvin takes Brittany's hand and dances with her.
In Alvin and the Chipmunks: The Squeakquel, they first meet in school and Alvin falls in love with her. While rehearsing, Alvin says "I never thought I'd say this, but... pink is my new favorite color!", he's obviously talking about after seeing Brittany, he thought she was so pretty, he joked about it being his favorite color.
In Alvin and the Chipmunks: The Squeakquel, The Chipmunks fall all over each other when rehearsing and smile happily while sighing, and all make comments about which Chipette they have a crush on.
In Alvin and the Chipmunks: The Squeakquel, Alvin warns Brittany about what Ian did to him and his brothers. Alvin's advice shows he cares for Brittany and doesn't want her to get hurt by Ian.
In Alvin and the Chipmunks: The Squeakquel, Alvin bumps into Brittany on the tray, causing him and Brittany to laugh nervously and get embarrassed.
in Alvin and the Chipmunks: The Squeakquel, Alvin resolves himself to save the girls, saying "Britt, I'm coming to get you."
In Alvin and the Chipmunks: Chipwrecked, Alvin called Brittany "kind of the smart one."
In Alvin and the Chipmunks: Chipwrecked, Alvin agrees that Brittany is the "pretty one".
In Alvin and the Chipmunks: The Road Chip, he and Brittany dance together at the party.
In Alvin and the Chipmunks: The Road Chip, after the performance of "Home," Alvin turns to Brittany and thanks her for coming to perform with the Chipmunks.
CGI Series
In Family Spirit, Alvin kissed both of Brittany's cheeks after they turn him loose.
In Going Green, he and Brittany hold hands, after which they are embarrassed.
In Kiss Conspiracy, Alvin accidentally kisses Brittany on the lips.
In Albrittina, in one quiz, Alvin's mystic mate was described as beautiful, extremely famous, singing in a girl band, likes the color pink and her name starts with a letter B. This description shows that, at the very least according to the quiz, Alvin will most likely end up with Brittany in the future.
In Let Them Eat Crumbs, Alvin jumps into Brittany's arms multiple times due to his fear of ravens.
In Brittany the Body Snatcher, Alvin stands up for Brittany and says nice things about her.
In Let's Make a Deal, Alvin and Brittany hugged after Brittany gets a role for a movie.
In Double Trouble, Alvin's clone falls in love with Brittany.
In Suck Toad, Alvin takes Brittany's hand and dances with her when she's not allowed in a party.
In Secret Admirer, when Alvin and Simon were discussing about which Chipette Kevin had a crush on, after Simon says that Jeanette is the prettiest, Alvin disagrees with him, saying that "pretty probably falls under Brittany," making him get nervous as Simon accused him of having a crush on Brittany, only for him to say he could not care less.
In Secret Admirer, the fact that Alvin has a crush on Brittany is heavily implied throughout the episode as he showed to have interest in her, and he and his brothers followed The Chipettes around school, only to see them 'flirting' with Kevin. Even at the end of the episode The Chipmunks denied any feelings they had for The Chipettes.
In Overlooked, Simon reveals that Alvin has a huge crush on Brittany, though he may have just said that to catch Alvin's attention.
In Tables Turned, Alvin quickly responds to Brittany's "emergency" call.
In School Alone, Alvin tells Brittany to hide while he distracts the "ghost," showing that he's concerned for her safety.
In Father Daughter Dance, Alvin dances with Brittany.
In Royal Pain Alvin defends Brittany after being humiliated at school.
Brittany's Hints
80s Series & Films
In I Love The Chipmunks Valentine, Brittany shows much affection for Alvin and wants him to be her valentine.
In Snow Wrong, Brittany sings with Alvin while holding hands on stage.
In Sisters, Brittany (even if it was for her own selfish purpose), went to Alvin for help instead of Simon or Theodore.
In Cinderella? Cinderella!, Brittany dreams that she dances with Alvin, showing us that Brittany shows affection for Alvin.
In Experiment in Error, after an explosion in Simon's lab, she tricks Alvin into thinking he's turned her into a zombie so he'll feel guilty and take her to the ball after all.
In Island Fever, when Alvin tries to comfort Brittany while she is depressed, she says she wouldn't want to be trapped with anyone else (except for Jeanette and Eleanor).
Brittany sings "Stand by Your Man," with a little help from Tammy Wynette, in which she admits she loves Alvin, despite his bad habits.
In Dreamlighting, Brittany was preparing to see a romantic detective show with Alvin because they supposed to be having an actual date together. When Alvin calls Brittany to tell her he will come after basketball practice, Brittany asks him what's more important, her or practice? Brittany also calls Alvin "darling" at the beginning of the episode.
Brittany sings "It's My Party" about Alvin, upset about him being with another girl named Julie.
Brittany sings "He's a Tramp" about Alvin, showing that she does have feelings for him in spite of his flaws on being attracted to other girls.
In the song "Macarena" Brittany refers to Alvin as her boyfriend.
In some episodes, Brittany has a picture of Alvin in her room.
In Big Dreams, two alternate futures show Alvin and Brittany are married and have a set of twin boys, regardless of their economic status (rich and poor). In addition, she says to Alvin at one point, "What could be better than what we just saw?" implying she agrees with the future.
In Alvie's Angels, Brittany flirts with Alvie (Alvin) about seeing what he looks like after she and the Chipettes become knocked out by a jewel thief at the mall and dream they are Alvie's Angels (spoof of Charlie's Angels). After they wake up and are on their way back home, they pass by Alvin who asks if he missed anything, Brittany replies "See you later Alvie" causing the other girls and herself to start giggling and Alvin to become very confused.
In Alvin in Neverland, Wendy (Brittany) is fascinated by Peter Pan (Alvin).
In Robomunk, Brittany kisses Alvin after she restores her partner (Alvin) and brings him back to life.
In many The Chipmunks Go to the Movies episodes, Brittany is either saved, dating, or a partner of Alvin's.
In The Chipmunk Adventure, Brittany joins Alvin in a spear when they find out about the truth of the race. She also is the first one to suggest looking for Alvin and his brothers when they discover the gem-smuggling scheme.
In Alvin and the Chipmunks Meet the Wolfman, Brittany dances with Alvin.
CGI Films
In Alvin and the Chipmunks: The Squeakquel, after Brittany asked Ian if he could represent them, Eleanor says, "And hang out with the Chipmunks!!" Both she and Jeanette giggle excitedly, meaning they are already smitten with The Chipmunks from fame and inspiring them to sing.
In Alvin and the Chipmunks: The Squeakquel, after Jeanette and Eleanor talk about Simon and Theodore, she says to them, "Yeah, I know. But, guys, remember what Ian said? We can't trust them." hinting she has a crush on Alvin, but has no choice except to follow Ian's rules.
In Alvin and the Chipmunks: The Squeakquel, Ian lies about Alvin, and Brittany becomes really disappointed and appalled, showing she was interested in only meeting Alvin.
In Alvin and the Chipmunks: The Squeakquel, Brittany can be seen sitting right behind Alvin on the motorcycle holding onto him tightly.
In Alvin and the Chipmunks: The Squeakquel, near the end of the movie, Brittany and Alvin dance together and then smile at each other happily.
In Alvin and the Chipmunks: Chipwrecked, Brittany tries to comfort Alvin after he doubts Dave will rescue them after he has driven him insane for a few years.
In Alvin and the Chipmunks: Chipwrecked, when Brittany tries to comfort Alvin, she has a pink mark on her cheeks which signifies that she is blushing.
In Alvin and the Chipmunks: Chipwrecked, Brittany paused and smiled at Alvin when he called her smart.
In Alvin and the Chipmunks: Chipwrecked, during "Born This Way/Ain't No Stoppin' Us Now/Firework," she and Alvin are seen frequently dancing and signing together and in the end of the song are seen waving to the crowd with an arm around each other.
In Alvin and the Chipmunks: The Road Chip, she and Alvin danced together on a party.
In Alvin and the Chipmunks: The Road Chip, after the Chipmunks and the Chipettes have finished singing "Home," Alvin turned to Brittany and says, "We owe you one." Brittany replies, "You owe us way more than one, but you're welcome." As she says this, she gently places a paw on Alvin's shoulder and warmly looks into his eyes.
CGI Series
Similarities
They are the leaders of their respective groups.
They are very competitive.
They are the most outspoken and can be tough nuts to crack.
They are strong willed
They are pretty rude but will come through for their siblings in the end.
They enjoy athletics.
They are also extroverted and have some "popular/cool" friends.
Commonly they are the cause of many adventures/mishaps.
They enjoy the spotlight.
They're impulsive.
They can be stubborn
They are the eldest of their siblings in the 80s series (their age isn't confirmed in the CGI films nor is Brittany's age in ALVINNN!!! and The Chipmunks).
Differences
Alvin:
Alvin does not seem to care much about his appearance.
He can be reckless.
His schemes are usually motivated by greed or trying to resolve a situation.
He is more defiant than Brittany.
Brittany:
Brittany can be more vain and materialistic than Alvin.
Her schemes are usually motivated for selfish reasons.
She cares about her appearance and loves to be glitzy.
She tends to cry for either sappy reasons like not getting her way, or for major reasons like getting humiliated at school.
Gallery
80s Series & Films
CGI Films
CGI Series
Community content is available under
CC-BY-SA
unless otherwise noted.